My Favorite Florence, Italy Attractions
I recall sitting on a small side street cafe overlooking a busy city square in Florence and thinking to myself "One day I am going to look back on this photo and wish I was back at this very spot". Oh, how right I was. We sat there watching students, tourists and locals walk by in slow motion as we sipped our (hopefully legitimate) local Tuscany wine and indulged in local Italian pasta. I could spend the entire day in this cafe…unfortunately, I only had a few hours to see all of Florence, Italy's Attractions.
The locals of Florence were extremely friendly and always smiled at you with a nod as you passed them. I like to believe it was because I ran out of shirts and was forced to buy an H&M shirt in Florence that was maybe two sizes too small leaving me looking like I have muscles lol.
Believe it or not, Florence is the first European city to have roads and that begins to make total sense to you as you walk down extremely narrow streets that even the smallest European automobile has difficulty tracing. You look down at the ground and you can tell that this road is unlike any other road you have walked on. The smooth rounded edges of each stone shows the rich history scarred upon these roads. I often found myself with a lust to think of what it was like back in 1472 walking the same streets as Leonardo Da Vinci.
With such limited time, we picked out 3 locations that were a MUST SEE.
Crossing The Ponte Vecchio
We first crossed over the Ponte Vecchio which was one of the only surviving bridges after World War II. It's really strange because you cross this famous bridge and on each side of the bridge are these tiny little shops ranging from expensive jewelry stores to clothing shops. I figured it would be a complete time suck, so we continued on and briefly took in the view from the safe distance of passing by the window. The view from the Ponte Vecchio is stunning and be sure to take a photo.
The Beauty Of The Palazzo Pitti
Our main destination was set on Palazzo Pitti. So you may be asking yourself "What's the Palazzo Pitti?! Take a second and think about any movie you have watched that takes place in the 1400's (Like Cinderella). Now x10 and you have the Palazzo Pitti.
I have never stood in such a lavish building. The ceilings stretched so high and every square inch of the building was dedicated to luxury. But that wasn't even my favorite part.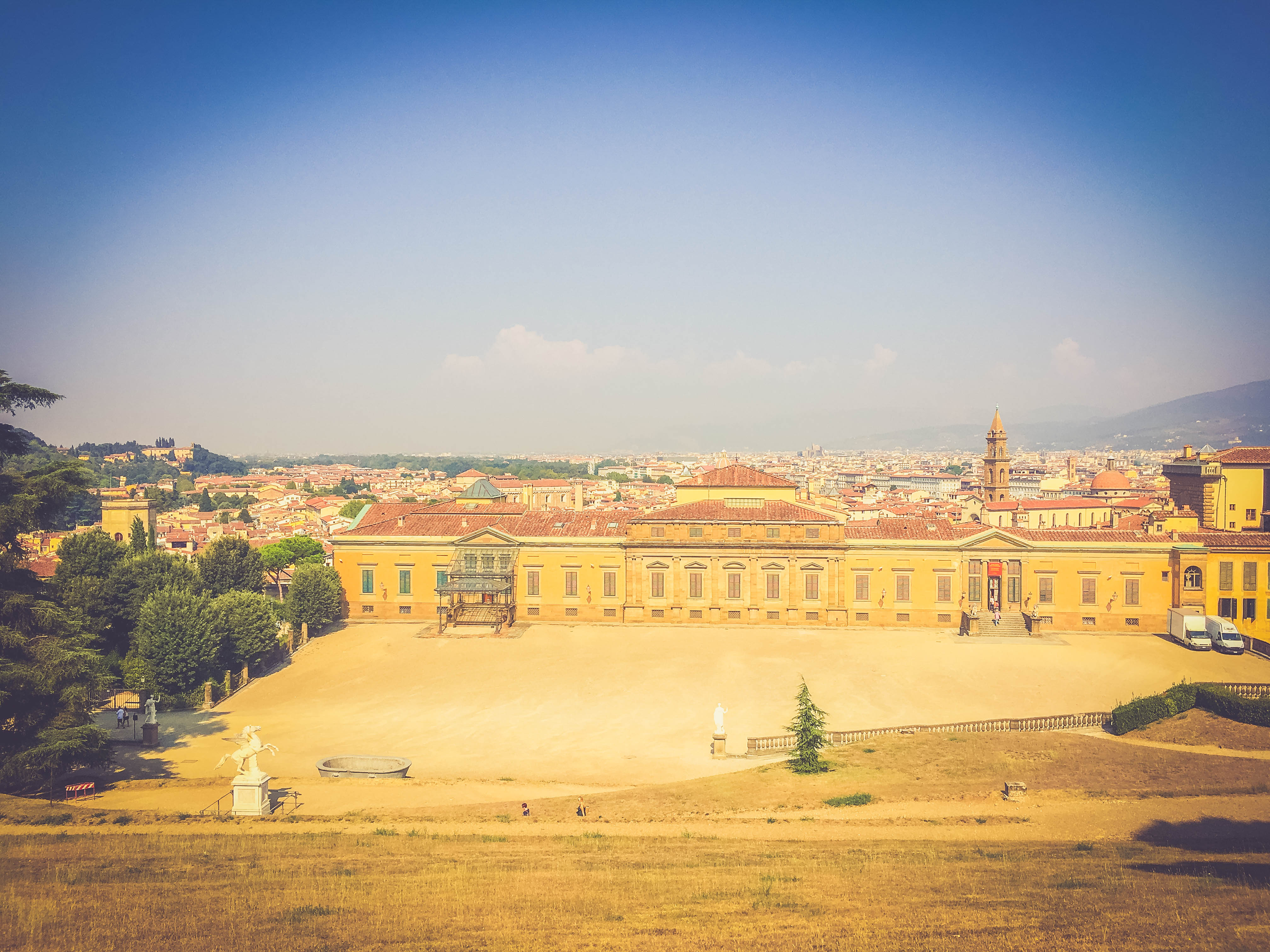 The grounds of the Palazzo Pitti were carved out with acres of gardens and fountains stretching all the way up a hill. On top of the hill, you can look out at the City of Florence with its amber glow and smile. While you are taking a moment to admire the beauty Florence, you realize something. Hundreds of years ago, someone else was standing in this same exact spot soaking in the view.
Climbing The Duomo, Florence's Cathedral
We only had about 2 hours left in our short visit to Florence, so we rushed over to see Florence's famous Cathedral 'The Duomo'! Walking up to the Duomo you can't help but feel a sense of jealousy. Why? Well, because the majority of the Cathedrals/Churches in the states lack the beauty that sinks your heart into your stomach like the first sight of the Duomo does. (Ladies: Make sure you wear something that covers your shoulders! God forbid you to show shoulder…ahhh see what I did there)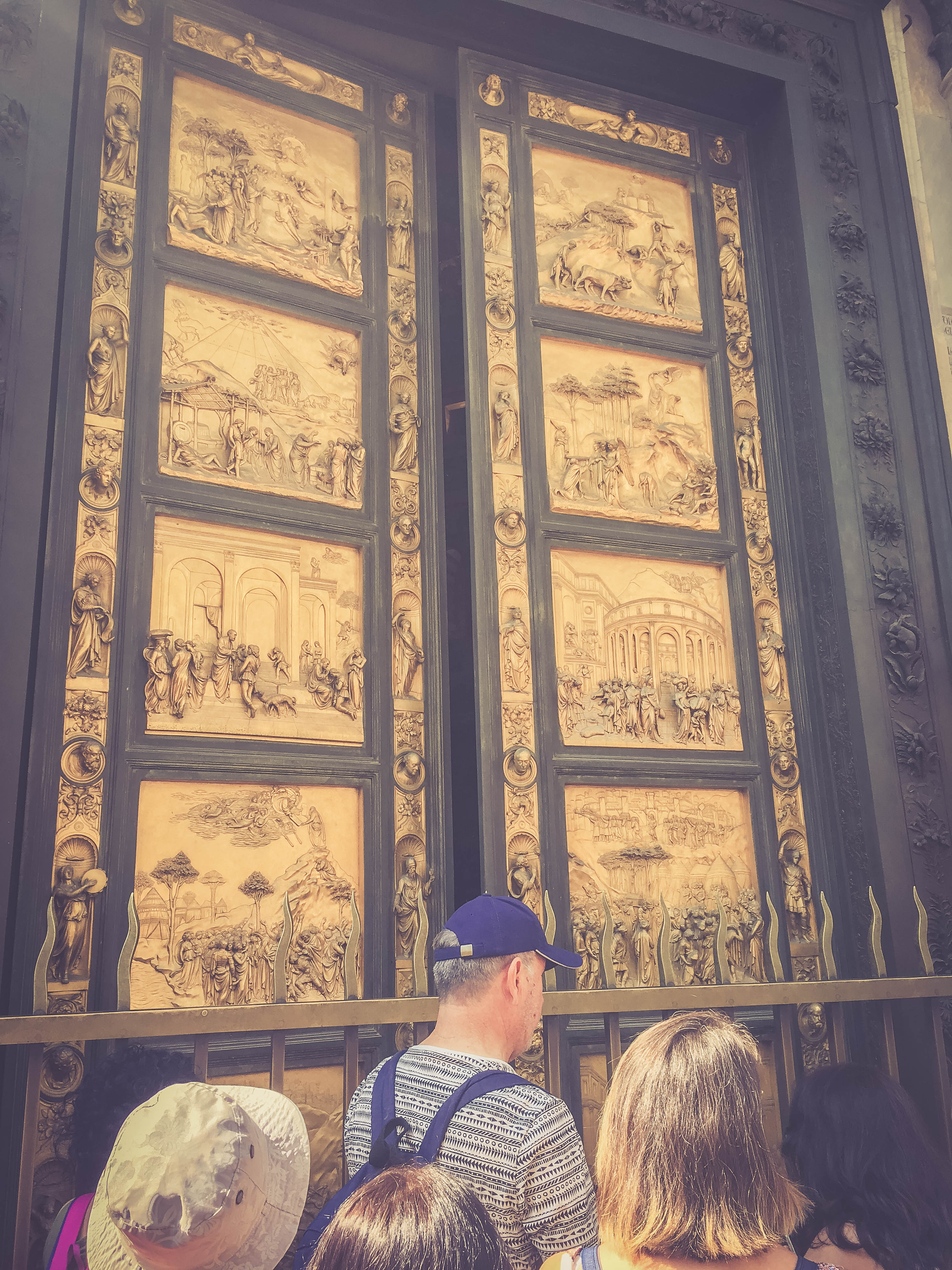 Take a minute, donate a dollar and light a candle for a lost loved one.
I wish I had a better camera at the time to take a photo of this incredible ceiling!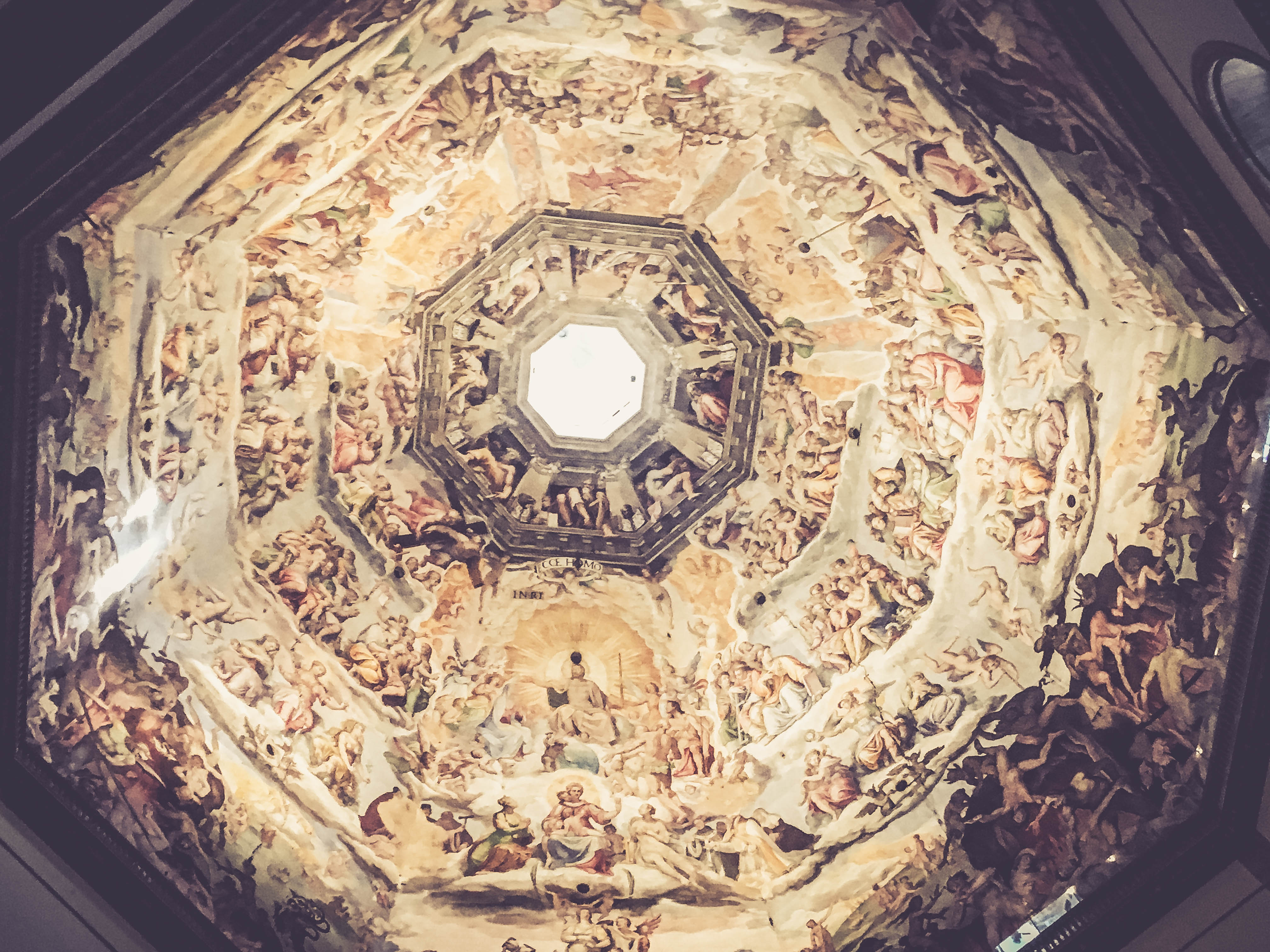 What To Wear
I feel as though Florence is the Nappa Valley of Italy. People enjoying wine everywhere, dressed casually and no sense of rush.
Men (Look like a local):
Summer – Light V-Neck or Light Button Down, Shorts (not cargo) and comfortable stylish tennis shoes.
Winter – Long Peacoat Jacket, Scarf, Boots and Jeans .
Women: (Look like a local)
Summer – Jeans, T-Shirt, Skirt, Sundress and flat shoes.
Winter – Down coat, leggings, scarf and boots.
Best Way To Explore Florence
Look down at your feet. That is your best mode of transportation for Florence, Italy. We unfortunately only had a few hours to take in as much of the city as possible, but we have already been planning our trip back. Stay in the city if possible and take your time exploring the city. Grab a map, walk to each location and ask locals what they recommend you see. Every city has hidden gems and your job is to find them!

My Top 5 Locations To See In Florence
The Duomo, Florence's Cathedral| Est Time: 45Min – Travel By: Walk .
Walk the marble floor of the Cathedral, light a candle for a lost one and climb to the top of The Duomo for a breathtaking view.
Ponte Vecchio | Est Time: 20min Travel: Foot

Historic bridge with tiny jewelry and clothing shops. Great photo opportunity over the Arno.
Galleria dell'Accademia | Est Time: 1hr Travel: Foot
The historic art museum in Florence with Michelangelo's sculpture David.
Piazza della Signoria | Est Time: 30min Travel By: Foot
Beautiful city square filled with street artists and sculptures.
Piazza de' Pitti | Est Time: 3hr Travel By: Foot
Beautiful Palace built in the 14th Century.
Florence, Italy Photo Gallery
I NEVER…ever eat tomatoes, but for some reason this dish had me hooked! So much flavor and little to no sodium.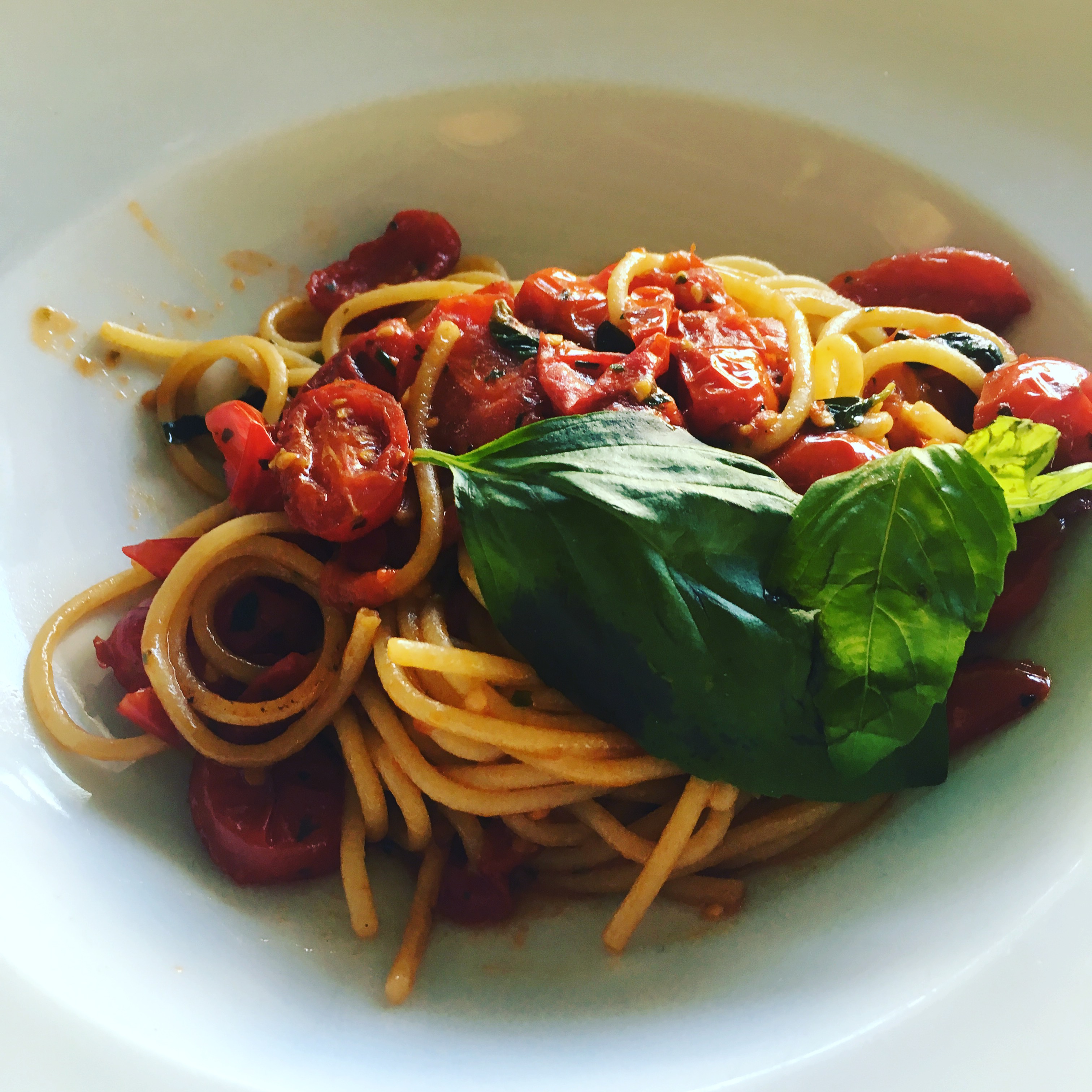 It was a unique feeling sitting at this table, watching life go by and wishing this was an everyday experience.

Servants quarters at the Piazza de' Pitti
Apparently, this statue is based on some dude who ripped his girlfriend's head off because he thought she was cheating and that she referred to him as "Tiny Tim".